Surveillance Solution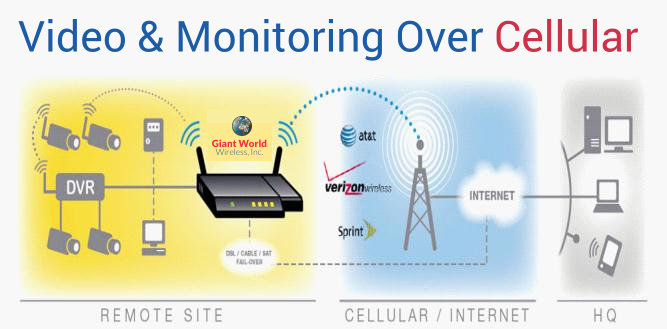 4G LTE Video Surveillance Enhances Business Security and provide end-to-end solutions for small businesses. At Giant World Wireless, our 4G LTE routers help monitor your home or business, and get free remote viewing on your smartphone, tablet or computer so you never miss a moment.
Our 4G LTE network are easy-to-use – and are designed to offer a seamless user experience.
One prevalent concern is security. Inventory theft during or after business hours can be a nightmare. Many businesses or offices are constant targets for the unscrupulous who may try to acquire valuables when no one is around or looking.
With video surveillance running on our 4G LTE networks, small business owners have the ability to quickly and easily monitor their business locations remotely using a smartphone or tablet. Giant World Wireless is providing innovative solutions to help small business owners, working with leaders in the security field track down unscrupulous personnel's or off service intruders.
With this camera device, you can watch over your home or business, your child anytime, anywhere with the Camera, with functionalities that lets you even these days, to move the camera remotely; monitor an entire playroom with ease from your mobile device. Also, our 4G/LTE camera's have night vision, temperature monitoring, sound and motion detection, and some with 2-way audio, notifications and more, that keeps you connected to everywhere in the World.
For example, Tactical VIDEO, which offers a complete 4G LTE surveillance kit that enables business owners to keep an eye on their assets from any location. High-definition wireless cameras can be accessed in real-time and controlled from mobile devices. It also includes Video Viewing, a secure application that runs live with minimal latency and sends an alert to a mobile device if there is an unwarranted disturbance.