IP Surveillance & Physical Security
IP Cameras
Network Storage
Access Control
Video Control

HD Megapixel Video, now possible by IP technology revolutionized the world of video surveillance. High resolution quality with wider angles provide a more natural view enhancing the effectiveness of video monitoring and offering better security. Coupled with Video Analytics IP Video Surveillance creates a new world of more effective and precise surveillance solutions.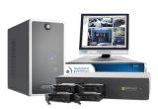 IP Cameras
Giant World Wireless embraces Megapixel IP Surveillance. We have selected the most reliable and complete IP camera solutions on the market. With a full range of select support and add-on products, our customers can enjoyreliable complete solutions.

Network Storage
Megapixel cameras generate vast amounts of data. A system with many cameras will need an effective system to access and back up recorded content.
Video Control
There are centralized and decentralized approaches to managing recorded video and doing analytics on video streams. At Giant World Wireless we offer both solutions and will be happy to help new customers evaluate when it's best to use which approach and explain the pros and cons of each solution.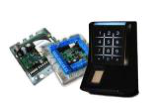 Access Control
Small and medium sized businesses can also benefit from the safety and convenience of video door stations with badge readers or Biometric access solutions.

ORDER TODAY Call 1-800-990-4268.